Rain Storage Barrels
The distinction between barrels that collect water and rainwater harvesting systems is simple. The main difference that keeps rain storage barrels from being a harvesting system is a matter of filtration. The barrel would need to actively remove debris and filter the collected water. A rainbarrel is much simpler, but it can be just as effective depending on your needs.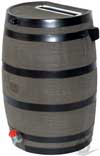 The rainbarrel is in no way a new idea but has been around for centuries. Improvements over time however have led to newer models capable of offering maximum effectiveness and durability. Although any container that collects falling rain could be called a rain water barrel, having a barrel specifically designed for rainwater collection means you may be able collect a greater volume of water.

At RainHarvest we offer a variety of styles to fit anyone's needs along with rain barrel supplies. You can choose from either plastic or wood designs. The new generation of plastic versions are light weight, perfectly resilient, easy to clean and maintain, and can blend into any landscaping or building. The wooden options, on the other hand, will make a significant statement in your yard. Our bourbon and wine barrels have been given new life after their original purposes. They are made of real red or white oak for an interesting look that is sure to start conversations about water conservation.

Our vast selection of rain storage barrels is equipped with the ability to easily connect to a downspout, allowing for rain to quickly fill the barrel. With the attached spigot, removing the water is a simple task. You will find the task of rainwater collection to be an easy task with our line of barrels.