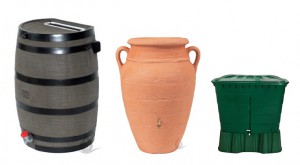 At the beginning of the year, many consumers take stock of their finances and the improvements they need to make to their landscaping once spring arrives. What if it's possible to do both—save money and improve the functionality of one of your home's biggest assets? Investing in a simple rain barrel can be a real asset to your lawn and garden. If you're a novice at harvesting rainwater, here are some features to look for when shopping for your first rain barrel:
Make sure it's child, pet, and wildlife-proof
A barrel full of rain may be good for your garden, but dangerous for a small child or the family pet. Check your barrel for specific design elements that prevent it from tipping over. For example, many barrels come with a flat back so it can be attached to the side of the house or a fence.
Ensure that your rain barrel has an overflow valve
An overflow valve helps regulate the flow of rainwater in your barrel. It kicks in when the barrel reaches capacity. Dual overflow ports provide optimum operation.
Look for a mesh screen filter to keep residue away
Hard rains and roving wildlife or insects can push debris into a rain barrel, making the water dirty and possibly damaging the inside of the barrel. A mesh screen filter will block all but the most minute of particles.
Check to see if the barrel is linkable to other barrels
If your landscape or gardening needs change—especially if you add a vegetable garden–you may need to expand your rainwater harvesting capacity. Make sure your barrel has the hardware to connect to another barrel.
Choose durable materials
Remember, your rain barrel will be outside during all sorts of weather, from baking sun to thundering rains to freezing ice and rain. While wood is recyclable, it isn't the most durable material choice for a rain barrel. Heavy duty molded plastics, such as resin, will be able to withstand the elements; it won't crack, peel or rot.
Ask for a warranty from your dealer
A warranty provides protection against defects in materials and manufacturing. Read your rain barrel's warranty to make sure that it covers replacement parts and their shipping costs. Most warranties will not cover damages incurred by the homeowner, so be sure that you follow the manufacturer's instructions for installation and maintenance.
If you're ready to invest in a rain barrel, start your research on our website. We offer a variety of barrel designs with capacities ranging from 50 gallons to over 400 gallons. The exteriors come in various styles, ranging from standard opaque green barrel shapes, faux wood grain, and decorative stone in several colors. There's sure to be one that fits your landscaping plan and your budget. Questions? Call us toll-free at 800-654-9283.