UV Pure Upstream™ NC 15-50 UV Sterilizer

UV Pure Upstream 15 gpm UV disinfection system. Patented Crossfire technology provides pure, safe drinking water.


---

Product Code:

R000004

---

Currently in stock

---

Web Price:

$2,198.95


List Price: $2,399.00
You save: $200.05

---

---

Estimate Shipping Cost
---
UV Pure's patented Crossfire Technology™ is globally recognized as the most advanced
and effective UV purification system. The Upstream™ series of UV systems provide pure water at an affordable price. All Upstream systems are laboratory validated.

Crossfire Technology uses dual smart UV sensors mounted in air, which cannot foul and are more reliable indicators of system performance. Lamps are air-cooled and maintain consistent levels of UV output for maximum pathogen deactivation. Computerized alarms, and an auto shut-off fail-safe valve are available so you know only safe water can enter your water system. Fail-safe shut off valve can be purchased for an additional $139.95.

The NC 15-50 model sterilizes 15 Gpm at 50% UVT, making this model ideal for rainwater collection systems.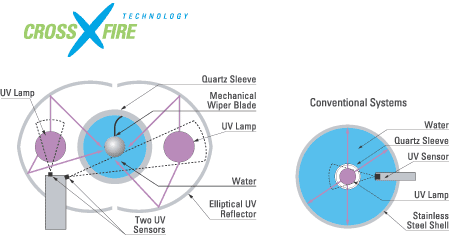 Self-Cleaning
Crossfire Technology uses a stainless steel wiper to clean the inside of the quartz tube eliminating quartz fouling and the need for a water softener making abrasive quartz cleaning a thing of the past - saving money and the environment.

Virtually Maintenance Free
Crossfire technology utilizes two lamps mounted in air, outside the quartz tube so maintaining a Hallett is as easy as changing a light bulb with no system draining required.

Easy to Install
Crossfire technology employs flexible FIP for quick and simple installation.


A sediment filter for removal of suspended solids and a carbon filter to remove color, odors and other contaminants is highly recommended and should be installed in the inlet line just prior to the Upstream unit.

A remote wireless monitor is available for an additional $159.95.

Includes Surge Protector.