RainReserve Basic Rain Barrel Diverter System

This kit can be used to enhance your current rain barrel setup, or to simply fill an open barrel or tank. The product diverts and stores rain water in any size tank or barrel for storage. The stored water can easily be used when and how you like.

---

Product Code:

2012309

---

Currently in stock

---

Web Price:

$33.95


List Price: $39.99
You save: $6.04

---

---

Estimate Shipping Cost
---
RainReserve high-performance rain diverter kits and parts are the "greenest" on the market and include the most features and capabilities. Whether your goal is to save money on utilities, be kind to your lawn and garden, or to contribute to helping our environment; the RainReserve is the answer.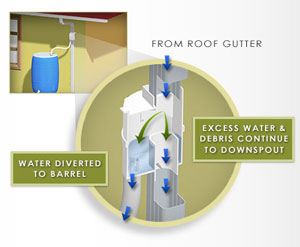 Features:
Ability to withstand extreme rainfalls, freezes, and debris due to the open design.
Allows user to position barrel or tank away from existing downspout while maintaining the existing overflow system.
Limitless capacity:
The system can be used with any size barrel/tank, and can reduce your carbon footprint by reducing water usage. Use of Expansion Kits and Daisy Chain Kits can further increase the capacity. Major costs savings achieved when using multiple tanks/barrels.
Shipping-ready packaging. (Reduces carbon footprint, waste and shipping costs.)
Partial

proceeds from sales go to a non-profit sustainability-focused organization

.

Manufacturer technical support

is available via phone and e-mail.

Warranty:

1-year warranty on all RainReserve products.
Includes:
High Performance Rain Diverter:
Made of a durable UV resistant hybrid corn plastic, thick wall construction to last a lifetime.
Dual

outlet ports

for parallel filling of two barrels or tanks, if desired.

Two methods of house attachment,

for brick and direct connect.
The design allows for

large debris to bypass

the tank/barrel, internal feature further reduces debris.
Includes an

access door

for quick and easy annual maintenance.
Made in the U.S.A.
5' of Tubing:
1" ID

to maximize water flow.
Opaque in color to

inhibit organic growth

.
Extra length and flexibility, allows you to place the barrel/tank where it is most convenient.
Made in the U.S.A.
1 "Do Not Drink Sticker":
To be placed on barrel/tank to discourage drinking recycled rain water.
Made from UV protectant corn plastic material
Made in the U.S.A.
Winterization Caps:
To be placed on Diverter outlets for quick and easy winterizing.
Made in the U.S.A.
Six Self Tapping Screws:
Six screws for direct attachment to the house or supported attachment to the downspout.
Made in the U.S.A
Installation Manual:
Download RainReserve Instruction Manual* (PDF, 3.1MB)
*Manual is written for the complete system and references parts not included in the basic systems.
4 simple steps

and includes all of the tips to finish the project
Made from 100% post-consumer recycled paper
Made in the U.S.A.