RainMaster 24 GPM UV Water Sterilizer


The RainMaster 24 gallon per minute ultraviolet water sterilizer is designed for rainwater collection systems, well water or as an add-on to a whole house water filter or any other filtration application with a flow rate of 24 GPM or less.

---

Product Code: RM-UV24GPM

---

Currently in stock

---

Web Price: $699.95
List Price: $769.99
You save: $70.04

---

---

Estimate Shipping Cost
---

The RainMaster ultraviolet water sterilizer is an axial flow reactor constructed of 304 stainless steel equipped with 1" MNPT connections. This model (UV-24GPM) is designed to properly treat flow rates up to 24 gallons per minute.

Two other RainMaster UV Models are also available:




It is important not to exceed the unit's maximum specified flow rate in order to assure proper UV germicidal dosage. If there is any uncertainty as to the flow rate that your system is required to treat, then either select a UV model with higher flow capacity or install a flow restrictor (sold separately).

UV water sterilizers are the most economical way to treat water requiring a 99.9% reduction of bacteria, virus and protozoa and they do so without the use of heat or chemicals. UV water sterilization is a unique and rapid method of water disinfection using germicidal ultraviolet lamps that produce short wave radiation lethal to bacteria, viruses and other microorganisms present in water. Since 1877 when Dr. Niels Ryberg Finsen - a Danish Scientist - discovered the germicidal uses of ultraviolet technology, UV water treatment has become well established as a method of choice for effective and economical water disinfection.

Germicidal ultraviolet light waves are invisible to the naked eye. UV light is segmented to three ranges of wave lengths; UVA, UVB, UVC. At present, 254nm UVC is the most efficient wave to kill bacteria and, like the RainMaster series, almost all UV water sterilizers operate in this wavelength.




Method of Operation:



The RainMaster series of UV sterilizers have been carefully designed to provide sufficient germicidal dosage up to the specified maximum flow rate throughout the entire disinfection chamber using the following sequence:


Filtered water enters the ultraviolet sterilizer and flows through the stainless steel housing between the quartz sleeve and the housing wall.
Suspended microorganisms are exposed to the ultraviolet rays emitted by the germicidal lamp
The LED indicator light, located on the ballast, provides a visual indication of germicidal lamp operation.
Water leaving the sterilizer is ready for use and no further contact time is required.
Disinfection Times:


Object

Sec.(S)*
Bacteria
Anthrax Bacillus
0.3
Clostridium tetani
0.3
Dysentery bacillus
1.5
colibacillus
0.4
Staphylococcus

1.3

Tubercle bacillus

0.4

Viruses

bacteriophagia virus

0.2

Influenza virus

0.3

poliovirus

0.8

HBV

0.8

Mycoticspore

Aspergillus niger

0.3-6.7

mucor

4.6

penicillium

0.9-3.0

Algae

Blue-green algae

10-40

Nematode eggs

3.4

Green algae

1.2

Protozoa

4.0-6.7

Fish diseases

leukoderma

2.7

Infectious pancreatic necrosis

4

Viral bleeding

1.6
* Full power UV dosage time required to kill 99.9% of objects




Specifications

:

Voltage: 110Vac, 60Hz
Suitable water temperature: -4°F - 120°F (-20°C-50°C)
Operating temperature: -4°F - 120°F (-20°C-50°C)
Designed to NSF/ANSI Standard 55
Effective measurement of radiation ≥38ml/cm²
Wavelength" 254nm
Sterilization rate: 99.9%
Bulb life: Approx. 9,000 hours
Transmittance (UVT): ≥65% Turbidity
Turbidity requirements: ≤ 5 NTU
Housing material: SS304 Stainless steel
Protection class: Class II, IPX1, CE Approved
| | | | | | |
| --- | --- | --- | --- | --- | --- |
| MODEL | BULB POWER | RATED FLOW | IN/OUT | DIA. | LENGTH |
| UV-8GPM | 30W | 8 GPM | 3/4" | 2.5" | 36" |
| UV-12GPM | 55W | 12 GPM | 3/4" | 2.5" | 37" |
| UV-24GPM | 110W | 24 GPM | 1" | 5" | 38" |
MODEL

OUTPUT
POWER

UV DOSAGE
μW/CM²

MAX
PRESSURE

USEFUL
LIFE (hrs)

WARNING
SYSTEM

UV-8GPM

160mA

>30,000

60 psi

>8000

YES

UV-12GPM

250mA

>30,000

60 psi

>8000

YES

UV-24GPM

500mA

>30,000

60 psi

>8000

YES
Components:
(24 GPM models have (2)ea. Quartz tube, Bulb, Ballast)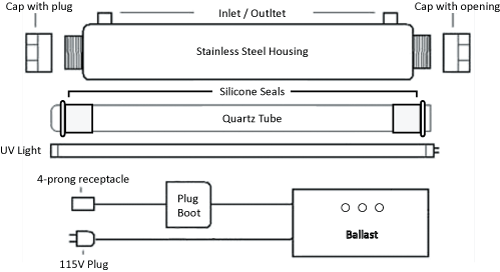 Dimensions:

MODEL

DIMENSIONS

UV LAMP/QUARTZ
QTY

A

B

C

G

Ø

UV-8GPM

36"

33.1"

31.1"

3/4"

2.5"

1/1

UV-12GPM

37.75"

34.8"

32

3/4"

2.5"

1/1

UV-24GPM

37.75"

34.8

32

1"

5"

2/2
Spares and Replacement Parts:
| | | | |
| --- | --- | --- | --- |
| | 55 Watt 24 GPM UV Replacement Bulbs | $74.95 | |
| | 55 Watt UV Replacement Ballast | $59.95 | |
Documentation:
---
Related products you may find useful:
Single Union Ball Valve: 1"


Manufactured with a polypropylene housing, teflon seats and EPDM O-rings, these high quality valves make system installation and maintenance a breeze with the integral pipe union feature.

1" female pipe threads on both ends.



Our Price:

$13.95


click to see more
---