Gro-Wall Vertical Gardening System

The Gro-Wall® 3 enables designers and users to install vertical gardens in adverse outdoor environmental conditions and in regulated indoor environments with complete access and control.

---

Product Code: 80041

---

Currently in stock

---

Web Price: $299.95
List Price: $349.95
You save: $50.00

---

---

Estimate Shipping Cost
---

Designed specifically for vertical garden enthusiasts, Gro-Wall® 3 includes many new intuitive and constructive features that benefit both users and designers. New features include a revolutionary watering system, improved wall anchoring and improved planting capabilities.


| | |
| --- | --- |
| | |
New I.P.I. System

Gro-Wall® 3 features Individual Plant Irrigation concealed within the structure.

New I.F.S. System

Integrated Framework System. Gro-Wall® 3 is fixed directly onto the wall. No additional framework is required.


Modular

Gro-Wall® 3 is a modular system allowing easy vertical and horizontal expansion.

Thermal Insulator


Gro-Wall® 3 performs as a thermal insulator for buildings, cooling in the summer and retaining heat in the winter.

Versatile Planting


Plant stems are planted at angles ranging from 90°, 62.5° and 45°. Individual planing cells accommodate multiple plants and grasses.


Accessible

Gro-Wall® 3 features easily accessible planting cells allowing easy maintenance and even plant and design changes.

Made from Recycled Materials


Gro-Wall® 3 is made from high-grade recycled materials.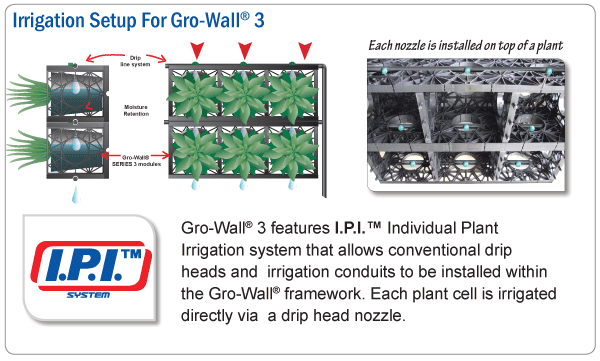 Documentation:


---
Related products you may find useful:

Customers who bought this item also bought