Grass Driveway Systems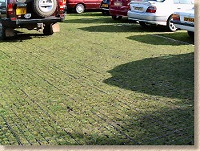 By implementing a grass driveway system you can reduce the amount of impermeable surface area on your property while simultaneously creating an aesthetically pleasing reinforcement structure that allows for pedestrian, car, and truck traffic.
You searched for Grass Driveway Systems. We've found 1 item for you.
Tip: You can refine your search by using the 'Refine Your Search' section on the top/left of the screen.