Graf Optimax® Filter - Pedestrian

Our most popular in-ground filter. High efficiency, self-cleaning, below ground rainwater filtration system.

Over 95% yield
Self-cleaning filter
Max. 3,750 sq. ft. with 4" connections
Max. 7,500 sq. ft. with 6" connections

---

Product Code: 340030

---

Currently in stock

---

Web Price: $529.95


---

---

Estimate Shipping Cost
---
The Optimax is the most popular filter in the Graf filter lineup.

An excellent filter for both residential and small to medium sized commercial rainwater harvesting installations. The Optimax® filter provides a highly efficient, low maintenance, self-cleaning solution.
Variable installation depth from 22-41 inches
Flush installation at ground level
Only 7" height offset between inlet and outlet
0.35mm (.01") mesh filter
Lockable childproof cover
Call us at 770-889-2533 for lower cost freight options.
Click to enlarge this chart: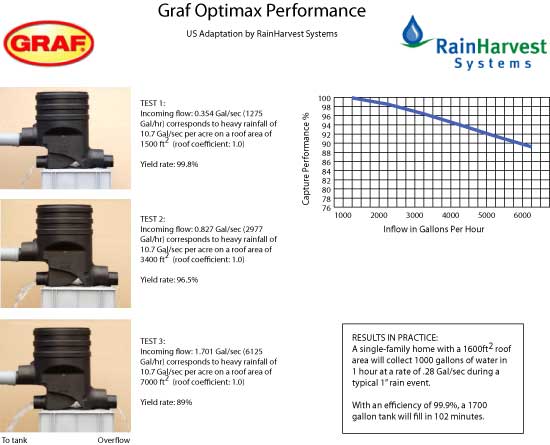 | | |
| --- | --- |
| Telescopic riser (included), with natural looking lid, reduces cost, simplifies installation and produces professional looking results. | |
Internal Seal Detail
---

Customers who bought this item also bought
Graf Calming Inlet


Water from the filter is fed into the tank via the Calming Inlet to prevent swirling of the water, disturbance of fine sediments and to introduce oxygen at the bottom of the tank. This device also helps prevent mosquitoes.



Our Price:

$62.95


click to see more
Graf Overflow Siphon with Rodent Guard


Differs from the standard overflow siphon with the inclusion of a slotted steel rodent guard. Dirt particles that are lighter than water (e.g. pollen & dust) settle on the water surface as a floating layer. This floating layer is removed when the tank overflows by means of the overflow siphon in the tank. Also aids in mosquito prevention.



Our Price:

$114.95


click to see more
---