Graf Choke Drain Shaft

The Graf Choke Drain Shaft offers controlled outflow to the infiltration, detention or sewer system with parallel emergency overflow capability.

---

Product Code: 340028

---

Currently in stock

---

Web Price: $699.95
List Price: $749.95
You save: $50.00

---

---

Estimate Shipping Cost
---
The variable aperture choke drain releases water at a predetermined rate. When the retention system exceeds the maximum storage capability, the emergency overflow pipe allows water to bypass the choke drain, allowing maximum flow.
Graf Choke Drain Shaft Overview
Variable installation depth from 22.5" – 41.3"using telescopic dome shaft
Plastic cover can be walked on or cast iron cover can be driven on by a car*
Boltable childproof cover
Watertight to surface level
No height offset between inlet and outlet
3,750 Sq. ft. maximum paved surface area handling
Standard 4" connections
Drain quantity adjustable from 0.132 to 1.72 gallons per second (see table below)

* Vehicle loading capability with cast-iron lid is available for $139.00
Typical infiltration application:

Swale ditch stormwater solutions:
Using Graf percolation filtration systems, infiltration through swale-ditches can be accomplished regardless of soil conditions. Depending on the soil's infiltration/adsorption performance (Kf), stormwater control can be achieved through a balance of infiltration and retention.
For delayed outflow into the drainage system, the Graf Choke Drain Shaft is the ideal solution. By adjusting the variable choke drain aperture, stormwater flow to the drainage field can be precisely controlled while providing a parallel path for emergency overflow.
A secondary benefit of swale-ditch infiltration is the cleaning effect the soil layer provides for the rainwater. This characteristic makes it particularly suitable for larger projects having higher levels of pollution in the surface water as occurs frequently in industrial applications.
Flow Rates:
| | | |
| --- | --- | --- |
| Flow Rate Setting | Gallons per second | Gallons per minute |
| 6.5 liters per second | 1.72 | 103 |
| 5 liters per second | 1.32 | 79 |
| 2 liters per second | 0.52 | 32 |
| 1 liter per second | 0.264 | 16 |
Choke Drain Plate Details: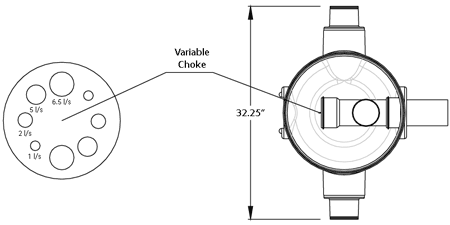 Choke Drain Shaft Dimensions: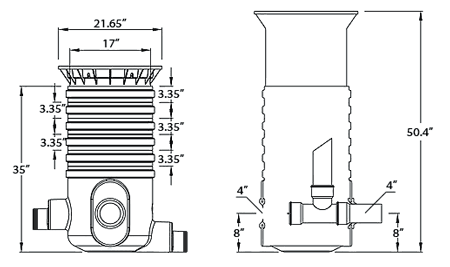 Additional Resources:
Click here for USDA Natural Resources Conservation Service Michigan Guidelines for Kf Values.
Click here for USDA Major Land Resource Area (MLRA) Soil Survey Regional Offices
Related products you may find useful:
Graf Multi-shaft Stormwater Management System - 16 in.


The new Multi-shaft stormwater management system consists of modular components for filtration, stormwater control, infiltration/detention systems, inspection shafts, choke drains and pump wells.

Basic system consists of inlet, distributor module and pedestrian telescopic riser.




Our Price:

$749.95


click to see more
Graf Multi-shaft Stormwater Management System - 24 in.


The new Multi-shaft stormwater management system consists of modular components for filtration, stormwater control, infiltration/detention systems, inspection shafts, choke drains and pump wells.

Basic system consists of inlet, distributor module and pedestrian telescopic riser.




Our Price:

$1,399.95


click to see more
---