Centrifugal Rainwater Filter - Medium: 5500 sq. ft. roof area

Rainwater from the roof is evenly distributed across a stainless steel filter mesh where the natural process of surface tension directs the cleaned water to the storage tank. The centrifugal rainwater filter can filter up to 5,500 square feet of roof area for irrigation, toilet flushing, vehicle washing, fire protection and other non-potable water uses. The 20 inch extension tube is included.

The $895.95 price is a non-discountable final sales price.


---

Product Code: VF150

---

Currently in stock

---

Web Price: $895.95


---

---

Estimate Shipping Cost
---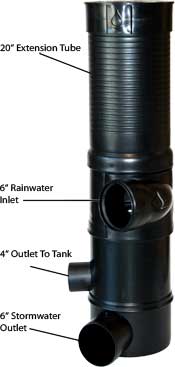 The centrifugal rainwater fine filter is installed inline with the rainwater conveyance system to remove debris prior to the storage tank. Depending on the volume of incoming water, over 90% of the incoming water is diverted to the storage tank while the excess water and debris exits through the drain connection at the bottom. The filter operates as a first flush device by diverting a portion of the water at the beginning of a rain event as the process of surface tension becomes fully active. Both underground and above-ground applications can be accommodated.
The three main sections of the centrifugal filter (inlet, tank outlet and drain) can be rotated to the ideal position for installation.
The filter assembly consists of a polypropylene filter housing, removable stainless steel .011" fine mesh filter insert, 12 inch stainless steel lift handle, upper ring, and housing lid. The filter should be cleaned at least once a year.
The 20" PE extension tube is included.
Related products you may find useful:

Customers who bought this item also bought
Rain Harvesting Pty Tank Gauge Tank Level Monitor
The RainHarvesting Tank Gauge™ is a water level indicator that is simple and easy to install. Suitable for all vented tanks up to 100" in height. Features an easy-to-read display dial and utilizes a weight float, suspended on a string line to provide accurate readings. Gauge is fitted to the tank via two screws provided.™

Our Price:

$24.95


click to see more
---