Big Blue 20" Filter Housing, 1-1/4" Ports & Pressure Relief

20" Filter Housing for Full Flow/Big Blue 20" X 4-1/2" Standard Filter Cartridges.

---

Product Code:

FW10000BL1PR

---

Currently in stock

---

Web Price: $68.95
List Price: $74.95
You save: $6.00

Discount


| | |
| --- | --- |
| Quantity | Price |
| 2 to 3 | $63.95 |
| 4 to 5 | $58.95 |
| 6 to 99 | $53.95 |

Discount is automatically applied at checkout based on quantity.

---

---

Estimate Single-unit Shipping Cost
For multiple units, use calculation at checkout
---
For post treatment of rainwater collection systems, the 20" Full Flow filter housings are the preferred choice for most installations. The large housing and cartridge units offer up to 35 GPM of flow at 60 PSI and the maintenance costs for larger cartridges is much lower than replacing smaller cartridges more frequently. These housings are low cost, durable, easy to install and they accept standard Big Blue size filter cartridges.
Optional Mounting Brackets: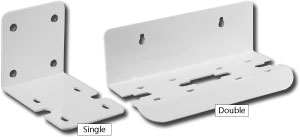 Full-Flow/Big Blue Filter Housing for 20" × 4˝" OD Big Blue Cartridges
Model #: FW10000BL1PR


20" Big Blue Size Housing
Accepts all standard 20' x 4.5" cartridges
FDA grade, 100% polypropylene & acrylic styrene
Resistant to acids, alcohol, ammonia, oils, plating solutions & many aggressive chemicals
Rated for up to 125 PSID & temps of 125
Up to 35 GPM flow at 60 PSI
Pressure Relief button for easy cartridge replacement
Dimensions:

Height
23-3/8"
Width
7-1/4"
Optional Mounting Brackets:
| | | | |
| --- | --- | --- | --- |
| | White double filter housing mounting bracket for 4.5" diameter Big Blue filter housing. Powder coated steel | $29.95 | |
| | White single filter housing mounting bracket for 4.5" diameter Big Blue filter housing. Powder coated steel | $19.95 | |
Related products you may find useful:
0.5 Micron 20" X 4.5" Carbon Block
4.5" X 20" (Full Flow and Big Blue size), 0.5 micron nominal, 1 micron absolute carbon block filter cartridge for chlorine, taste and odor reduction. Each cartridge is individually shrink wrapped.

Our Price:

$64.95


click to see more
---

Customers who bought this item also bought
Rain Harvesting Pty First Flush Diverter for In Ground Systems


The Rain Harvesting In-Ground 12" First Flush water diverters improve rainwater quality and safety, help extend the life of pumps (used to distribute rainwater for use in and around the home) and internal appliances that draw upon rainwater (such as laundry, toilets, hot water systems and dishwashers) and reduce tank maintenance.



Our Price:

$79.95


click to see more
Wireless Tank Gauge


Utilizes a reliable solid float system that does not rely on ultrasonic beams. The system offers a simple set up and provides an easy read dial with "Empty" and "Full" indicators



Our Price:

$129.95


click to see more
---